Here at Pete's Cycle, we love being immersed in our Community. Giving back, in any way, is something that we are proud to say that we love to do. And now, more than ever, we recognize that it is crucial to help those in need in our community. Pete's Cycle Company, in partnership with 
Jones Junction
 & 
Carroll Motor Fuels
 was able to do just that for one of our favorite organizations, a local Animal Rescue named Pitties and Purrs Rescue, Inc. The owners & staff members of these companies were able to come together and present Mary Sullivan, President of Pitties & Purrs, and her crew with a total donation of $8,000!!! How amazing is that?! 
🎉
🎉
🎉
🎉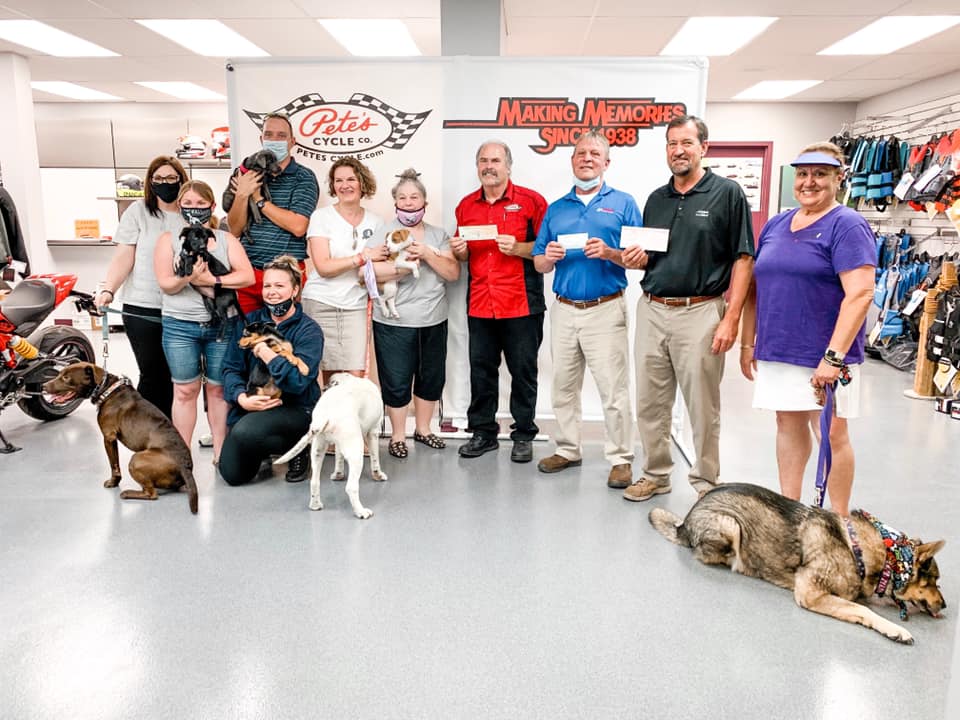 This donation could not have come at a better time for Pitties & Rescue and all the animals in their care. Their annual Shrimp & Bull Roast was cancelled due to COVID-19 (Coronavirus). It is their most profitable (and fun!) Event of the Year, raising over $20k in donations from the hard work of their volunteers & awesome support from the community. Without this Event, the Rescue was in real trouble; concerned for how they were going to continue their life-saving work. From the Rescued Animals they take into Foster, there can be a spay/neuter needed (almost always), and many other medical conditions such as mange, entropion eyelids, Heartworm Treatment, biopsies, surgeries, broken bones, tooth extractions, etc. They mostly handle all the tough medical cases that others are not willing to. Not to mention the monthly & yearly vaccinations and grooming for all animals in their care. Training is also a necessity to set up the future Adoptable for success in life. They treat these animals like family, until they can find the perfect home for them to call their own, forever. They have become a staple in the Community, and we are happy to be involved with this Rescue. Thanks to the generosity of our business partners, we were all able to contribute to this life-saving cause.
If you would like to contribute to this 501(c)(3) Organization, they are graciously accepting monetary donations via Mail, PayPal, Venmo & Facebook. They have many awesome fundraisers happening right now that are beneficial for both you and the animals in their care! Take a look at their Facebook page, and give them a follow!
Pete's Cycle Company is proud to have an ongoing partnership with some of the best companies in the business. Thank You Jones Junction & Carroll Fuels for all your ongoing support. Teamwork makes the dream work!
#Community #ShopLocal #AdoptLocal #SupportLocals #Baltimore #Maryland #PittiesAndPurrs #JonesJunction #CarrollMotorFuels #PetesCycle